By: Bill "Heywood" Howard
Its 4 am, and throughout the west coast of Florida a dedicated group of anglers awake with eager anticipation of the day to come. They have thought of nothing else all winter. Obsessed with only one thing, big fish off the beach, they drag themselves out of bed, grab some coffee, the kayak and gear and head out the door. Its Tarpon season. Every year these magnificent game fish make their northerly migration from points south up along the beaches of Florida's Gulf coast, and every year this dedicated group of kayak anglers awake early so as to be on the water at dawn to greet them. Some choose live bait, others are strictly artificial lure anglers, but there is one thing they all can agree on, fishing out of a kayak for Tarpon, is very addictive.
So what do you need to know in order to become a successful tarpon angler? I sat down with anglers ranging in experience from first year rookies to seasoned anglers and asked them to share their experiences stalking the beaches for these silver brutes.
The Rookies
To call these guys "Rookies"is really unfair. They have years of fishing under their belts, but for some of them, this was their first year chasing Tarpon off the beach. For "first timers" they did really well. The key to their success this year was due to several things, lots of home work and questions. But the number one key was time on the water. Ask any old timer and they will tell you, the more time spent on the water, the shorter the learning curve.
Steve "Manning" Manning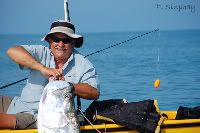 How long have you been at it?
I went several times in 2010, but 2011 was really my first full season.
How many hook-ups vs landed in 2011?
I really did not count. I went tarpon fishing 2 or 3 times a week starting in the middle of May. I only landed 3 fish, but I think I averaged about 1 hook-up per trip. So I estimate that I was somewhere between 20 to 30 hook-ups vs. 3 landed.
On your first trip tarpon fishing, what did you do? Did you observe others or go right in?
I really did not fish much on that first trip. We were sight fishing with artificial lures and I really did not know what I was looking for. I did more observing than fishing. That is how it went for my first couple trips. I was lucky enough to get to assist on catches by Dave and Bill, which taught me a lot.
What was your first hookup like?
My first hook-up came in 2010. It was a short, but amazing experience. We were throwing artificial lures. I saw the fish coming and made a cast. I think I was in shock when the fish took the lure and jumped. I don't think I even remembered to set the hook. After one or two jumps the fish went on a big run. I was amazed at how fast the line was stripping off the reel. There is actually a photo of me in the tarpon gallery where I am reaching down and tightening the drag on the reel. Shortly after that it came unbuttoned.
Live bait or arties?
I started the 2011 season throwing artificial lures. As noted above, I had lots of exciting hook-ups, but zero landed. In late June I switched over to bait. I caught all three of the fish on bait. For me the bait works best.
What type of gear do you use?
I am using a 7000 series Penn Sargus reel on an 8ft. St. Croix tidemaster that is heavy power, fast action with a line rating of 17 to 40 lbs. The reel has 50 lb Power Pro and I am using an 80 lb fluorocarbon leader. I have been using Mustad 8/0 circle hooks. I have been using a swivel between the line and leader to help line warps at the bobber. I used uni knots for line and leader connection to the swivel and the hook.
One tip that you would pass along?
If you are the new guy in the group take your first opportunity to assist someone else with more experience with their catch. When they whoop it up, pull in your line and go help out. You will learn tons by watching what actually happens during the fight. Stay out of the way, watch, listen and offer to help with a tow to revive the fish.
Joe "ZeroSix"
Joe's last name has been omitted for security reasons. Joe is active duty Army and serves in hostile locations. Thank you for your service Joe!!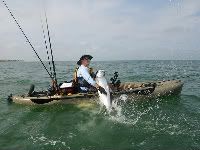 How long have you been at it?
One season
How many hook-ups vs landed in 2011?
14 solid hooks with at least one jump, two fish to the boat and countless unidentified hits.
On your first trip tarpon fishing, what did you do? Did you observe others or go right in?
As a Search/Rescue Helo Pilot who grew up fishing off the North Carolina shore I have adopted a philosophy of researching a topic well before jumping into to something head first, especially something that could prove dangerous. I spent several weeks reading every article I find and querying those who had experience. I was taken under the wing of two seasoned kayak tarpon hunters who checked over my gear, gave me the basics to get started with and kept a close eye on me.
What was your first hookup like?
My first hook up was on my second trip out on Mother's Day. I felt guilty at first because my two mentors had been at it religiously each week for a couple of months and neither of them had jumped a fish. That occupied the first nano-second of the battle and then the "Shock and Awe" of the sheer power of these marvelous beasts took over. I could not stop smiling. This fish was amazing! She must have jumped a half dozen times completely clearing the water.
What type of gear do you use?
I am a Hobie loyalist with respect to their Mirage Drive system – it does have some slight limitations in shallow water, but I will take it over a regular kayak any day.  As for my rods, I have two twin Shimano Teramars, 8 foot in length and extra fast/extra heavy. With the 8' length they allow you to work the fish around the bow without issues and the ability to cast even the smallest of live and swim baits with ease. The Teramars are paired up with twin Shimano Bait Runner 6500s. The Bait-Runner feature comes in extremely handy when fishing two baits at once. When I have a fish take a bait, I let him run without engaging the reel for the first few seconds which gives me time to retrieve my second bait out of harm's way. My main line of choice is Ohero's 40 braid and I use their 60# fluorocarbon for the first part of the season when the fish appear more skittish and then switch to 80# later in the season.
Live bait or arties?
I began my tarpon fishing thought process as a staunch naturalist and then quickly came to the conclusion that in order to stand a chance in an area where the fish are not predictable, live bait was the way to go. I always did carry a spare road with a DOA Bait-Buster on it but honestly only got about a half dozen casts off during the entire season because my hands were always full. I would offer that you should decide what you want to fish with and stick to it.
As for what bait works best – in all honesty… whatever baits you can get. It appeared that there was no real preference from one day to the next. If I had to choose one for an entire season it would be a 3" pinfish, no kidding. I learned early on that "elephants eat peanuts" with respect to big baits verses small ones as my tarpon mentors constantly reminded me.
One tip that you would pass along?
If you are fishing baits under floats with braid as your main line – you are going to get tangles and bird's nests from time to time around the float. It is just going to happen. The best method that I have found to mitigate this is to maintain positive contact with your float.
Meaning: do not just cast out your bait, open the bail and let it run. This will only exacerbate any condition out there that will tangle your line in the first place. On days with current or wind taking your bait away from you, it is easy to maintain that direct contact with your float. Once your float hits the water, control the amount of line you let out. Once you are where you want to be, engage the reel and you're in business. Check the line's tautness often to ensure the wind or tides have not changed. On days when there is a slack tide or no wind, it is tougher but still doable. Again, actively fish, do not "set it and forget it" as George Foreman says.
Walt "EZYLYF" Ruda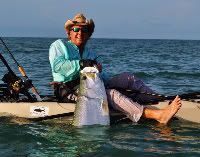 How long have you been at it?
Been fishing for Tarpon from a kayak for 3 seasons.
How many hook-ups vs landed?
8 landed for 16 jumps in 2011.
On your first trip tarpon fishing, what did you do?  Did you observe others or go right in?
I have fished for tarpon through the years from a boat so I basically went right in from the kayak.
What was your first hookup like?
Exciting for sure but have been pulled around by sharks in the kayak before actually catching a tarpon so I was used to the pull.  One thing for sure that I have found out is, all the hookups seem to be as exciting as the first and there is always something different to look forward to as every tarpon fights different, so it's very unpredictable on the fight which keeps the excitement in this type of fishing.
What type of gear do you use?
Kayak  –  Malibu Stealth 14 ( in my opinion there is not a better kayak out there for fighting tarpon )
Rod  –   8ft    30 – 40 pound  — 8ft length to be able to reach out in front of the kayak when fish changes directions.
Reel  –   Conventional – Grouper size
Line  –    50 – 65 pound braid
Leader  –   60 pound flourocarbon
Hooks   –    6/0  circle  3 or 4x
Live bait or arties?
Live bait  –  90% of my hookups are with pinfish.  Greenbacks, Threadfins, Grunts and Pumpkinseeds also have worked.
Arties   –   Tsunami swim baits
One tip that you would pass along?
Definitely gear up for these fish, find out the best ways through fishermen that have experience. You want the experience to be great for you and as easy on the fish as possible. So gear up so you can get the fish to the kayak in a reasonable time. You can spend hours on the water sitting in the saddle before the hookup comes and you don't want to have failure due to wrong gear, weak knots, etc….
The Pros
If you called the following anglers "Pro's" to their face, they would quickly dismiss it. They have been at this for some time and while they are very accomplished, they prefer the "low key" approach to fishing. Not quick to call attention to themselves, on the water every morning they can, seeking their own personal challenges. I'm extremely thankful to them for taking time to help with this article.
Thomas "Uncle Tommy" Coffey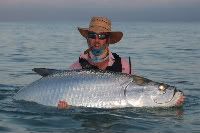 How long have you been at it?
8 Seasons
How many hook-ups vs landed in 2011?
17 Jumped fish. 3 to the boat.
On your first trip tarpon fishing, what did you do? Did you observe others or go right in?
I served as photogragher. Later that Season, I started jumping fish. Didn't take one to the boat until Season 2.
What was your first hookup like?
Utter Chaos. Sudden. Thrilling. Frightening. Beautiful. Over too soon. Couldn't get my hand to stop shaking. Bottle that feeling and sell it to the masses.
What type of gear do you use?
My first Season, I paddled a WS Tarpon 160 until I hooked a big girl at my 7 o'clock and fought her for 7 jumps over my left shoulder because the boat wouldn't turn. Since then I paddle a Tarpon 120 which turns on a dime.
My new favorite rod is a Star Deluxe DLX30 paired with a Stradic 5000. For live bait, I like a Baitrunner 6500. Both spooled with 30# PP. I use a Bimini twist to double the line and an Albright to the leader (60# fluorocarbon). I use either a loop knot for the hook or I snell it. I like Gamakatsu circle hooks 6/0 -8/0 4x strong.
Live bait or arties?
For live bait I like Pumpkinseeds, Pinfish, Greenbacks, and Grunts (in that order). I used to throw DOA Baitbusters, but have made the switch to 5′ or 6′ Tsunami swim baits. The cast a mile, do not helicopter, and have a good stout hook which is sharp right out of the package.
One tip that you would pass along? In my experience Tarpon Fishing success is directly proportional to time in the saddle. We see a lot of guys out there just a few days a Season. We refer to them as "trout fishermen".
Rik Llewellyn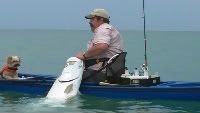 How long have you been at it?
Ten years.
How many hook-ups vs landed in 2011?
I spent the first month or so throwing artificial lures at them with absolutely no success. Not even a bump. After hearing of the success of the northern guys using bait, I changed tactics. Once I put on bait at the end of June, I started getting hook-ups almost immediately. This year I got 2 to the kayak, broke off 4 using lighter leader, gave a rod and reel to one and lost 3 to straighten hooks/bad hook sets/unintentional broken line. Once I went to bait, I hooked up on almost every outing.

On your first trip tarpon fishing, what did you do? Did you observe others or go right in?
A few of my friends and I talked about it one day ten years ago. There wasn't the buzz about kayak tarpon fishing that there is today so there wasn't the opportunity to go out with experienced guys. We'd seen the old pictures of guys in canoes catching tarpon down in Boca Grande so we knew that big fish from small boats wasn't new. Plus, there were a couple guys fishing them from canoes off the Sarasota beaches already so we knew it wasn't crazy. Just adventurous.
What was your first hook-up like?
One day we gave it a try off a Siesta Key Beach. I had in my mind that a nice 60 pound fish would be just fine for the first one but you really don't get the chance to choose your target. When I hooked up with my first ever tarpon from my kayak, 120 pounds of silver fish went to the sky, and as I looked back at it over my left shoulder, all I could think was "Oh no, I don't want one that big!". We didn't know how to do it the right way back then so I was dragged around for an hour and eventually ended up 2 miles offshore.
One of the guys in the canoe, Mike, went with me. As I got the tarpon alongside my kayak, my rod exploded into many pieces and the line parted. I was left with the rod butt to just about 4 inches of rod above the reel and several 4 – 6 inch pieces of rod in my kayak. Like I said, it exploded, it didn't just snap in half.
I'd had the benefit of having caught many tarpon from a skiff before I tried it from a kayak. Even knowing the power of these fish, it was still a whole new experience. I'd would highly suggest that someone wanting to go after tarpon from a kayak catch one first from a skiff. They are amazingly powerful fish. Catching one first from a boat gives you some understanding of what you'll be in for in a kayak.
What type of gear do you use?
Until this year, I used a Wilderness Systems Tarpon 16. This year I used a Native Ultimate 14.5. I did take the Tarpon 16 out one day this year when I expected it to be rough. They have different characteristics once you're hooked up. The Native turns quicker making it easier to keep your bow pointed generally towards the fish. The Tarpon 16 glides faster making for a much nicer sleigh ride. If I had to choose between the two, I'd pick the Native and just not go out on choppy days when waves are breaking at the beach. I filled the Native to the brim on one ill fated launch and never want to deal with that again. They are pretty darn heavy when filled with sea water!
For most of the season I used a St. Croix Tidemaster rod (TIS80HF, 8′, Heavy, 17-40 pound test line), Quantum Cabo 60 reel, 50 pound Power Pro line, 60 pound flouro leader and Owner Mutu Circle hooks (6/0). I'm now using a Shimano Terramar rod and Penn Slammer 560 reel.
Live Bait or arties?
Until this year, I was 100% arties with the DOA Baitbuster, in silver belly with a green or black back, being the first choice. This year I went to bait for a couple reasons. First, they just weren't hitting artificial lures. Have no idea why but no one was having much success with them. Second, the fish, while we started seeing them early (April) and often, never really stayed up on the surface. We didn't get the slow, meandering schools of fish. They didn't stop and mill around or daisy chain. They were all peek-a-boo schools and fast moving. Peek-a-boo is when they come up 100 yards away, you paddle hard to get in line and then you never see them again until the pop up 100 yards away in the other direction.
We all knew the fish were there, we just weren't seeing them. In previous years you'd see a school of 50 fish mill around a quarter acre area popping up, slapping their tails, taking big breaths. These are easy targets for arties.
As to bait, I used whatever came up on the sabiki rig. Squirrel fish, Grunts and Pinfish all caught tarpon this year.
I also use a fish finder. He is furry and weighs about 9 pounds. Loves to chew on extra bait while waiting for tarpon to show up.
One tip that you would pass along?
There are several tips I'll pass along
1. Cut your gear way back. Keep it very simple. You want a clear cockpit and not much to deal with once you hook up. A lot happens in the first few minutes of a tarpon hook up and all of it is powerful and fast. You want 100% of your attention on the fish for your own safety and, best of all, to watch the fruits of your fishing pursuit. Looking up at a 100 pound tarpon is a pure thrill. Yes, the fish will be higher up in the air than your head. You don't want to miss that because you are messing around trying to clear things from the cockpit.
2. Be prepared for the hook up before you hook up. Have your bait rod secured. Have your drift chute out and attached so all you have to do is toss it over. Have the pliers you'll need secured in front of you, not back somewhere in the crate behind you. If you are using an anchor, have it attached with a simple clip with a big float on the line so you can unhook it in a second without having to look at it.
3. Know who your buddies are. Tarpon fishing from a kayak really isn't a solo pursuit. Yes, some go out alone but, IMO, they should be using light leader to pop them off after they've had the jumps and sleigh ride. There are inherent dangers in trying to land a 100+ pound fish alone. Until you've landed many, I wouldn't suggest trying to do it without some help even if it is just someone shadowing you for the 'just in case' moment. Also, understand that when your buddy hooks up, you need to reel up and follow. He'll do it for you, you do it for him. That's what buddies are for.
4. Pay attention to your drag. It can be a costly mistake. I always turn the drag off a bit to compensate for the power of the initial hook-up and explosion from the fish. Once the first 60 seconds of madness is done, I crank back in some drag. Forgetting where you are in the crank off/crank in cycle doesn't end well. Trust me on that…….
5. Once you have a tarpon on the line, fight it. Fight it hard the entire time. If you rest, the fish rests. Constantly change directions of the line pull. It isn't all just pulling up. Pull sideways to try and drag the fish backwards. These fish have a lot of will power and, IMO, pulling them backwards breaks that will power. If you are hitting the 45 minute mark, you aren't fighting hard enough. As a buddy, part of your job is to keep reminding the guy with the fish to keep fighting hard. He may look at you like a wife looks at her husband telling her to breath in the delivery room but he'll thank you later. This season everyone was getting their tarpon to the kayak in around 15 minutes.
6. Don't let it gulp air. As the tarpon tires, it will come to the surface and take a big gulp of invigorating and fight prolonging air. Don't let the tarpon do that. Stick your rod tip in the water and force it back down. There's a saying that every gulp of air adds 5 minutes to the fight. As the fight goes on, those 5 minute gulps start feeling like 10+ minutes.
7. Have a plan to resuscitate the fish before you catch them. If you just unhook the fish and let it go after the battle, it will sink to the bottom and become shark food. We all carry a tow line that we attach to the kayak of the guy who caught the fish. He holds onto the fish and the other paddles. And paddles. And paddles. Sometimes it is quick, sometimes it takes a while. The shorter the fight, the shorter the tow required to resuscitate. That's part of the reason the buddy is constantly telling you to fight harder. There are ways to do it yourself (none of them easy) but, since you'll always be fishing with a buddy, towing is the best option.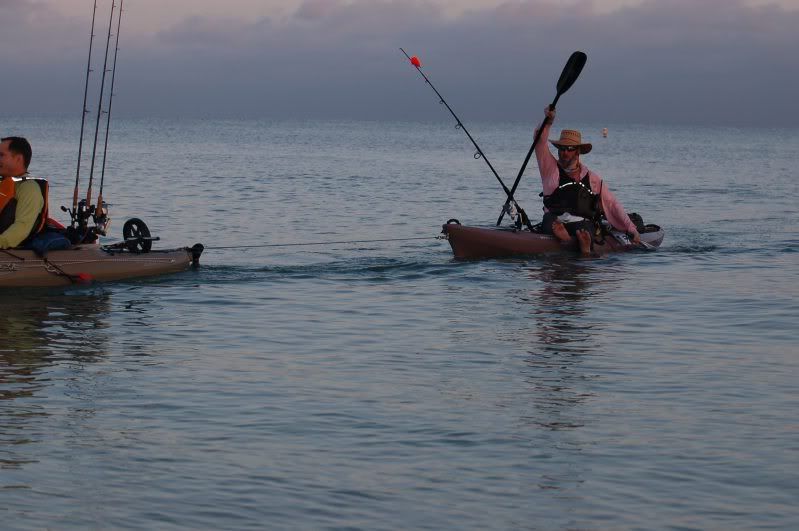 Bill "Shamus" Ambrose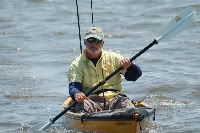 How long have you been at it?
I've been Tarpon fishing from a kayak since 2004.
How many hook-ups vs landed in 2010?
2010 was a tough year due to self imposed house projects. I didn't put my normal amount of time on the water. I had 7 hookups, one leader touch but never out my hands on one. If something could go wrong it did.
On your first trip tarpon fishing, what did you do? Did you observe others or go right in?
I jumped right in. Now I had caught 20 or so from boats (I planned Tarpon trips in Isamorada every year) I also had been kayak fishing Long Island Sound for 7 years before I moved to Sarasota.
What was your first hook-up like?
The first time I hooked up was just like skydiving. A ton of "Oh shoot what have I got myself into." The sleigh ride was thrilling. I had Dave shouting directions the entire time, you know how pleasant he can be! That first fish never jumped; just pulled an bull dogged me the entire time. So mine wasn't the glamour fish but a prizefight the entire time. The thing that comes to mind is that most people don't realize how much leg strength you use to fight a big fish, in a kayak. It's all stomach and upper body. It kicks your ass!
What type of gear do you use?
Shimano Terramar rod 8′ ,Van Stall 150 reel , Power pro 40lb line , Seagar 60 lb leader, owner 5/0 hooks uni to uni between line and leader. Cinch knot on hook.
Live Bait or arties?
I'll use anything to catch a tarpon. When I throw arties which is in the early part of the season, it will be DOA Bait Busters,  sliver with either green or black back. Live bait is usually crabs but this season I used pinfish. Tarpon eat anything as long as it's in front of their face.
One tip that you would pass along?
Several tips. Most important NEVER GO ALONE !! We aren't fishing for trout here and things could go wrong real quick! Also when it's slow you can sit there with a good cigar and coffee and solve the world's problems. Rik and I resolve that little Debt Limit thing in 20 minutes. Drift chute, Mexico is a long paddle back. Use the best gear you can afford, Tarpon have a bad habit of reducing good gear into garbage. Don't make it more than what it is. I see many guys who are pissed because they didn't hook up that particular day. I remind them that they watched the world wake up on some of the most beautiful stretches of beach there are. There are Turtles and dolphins to watch, enjoy it all.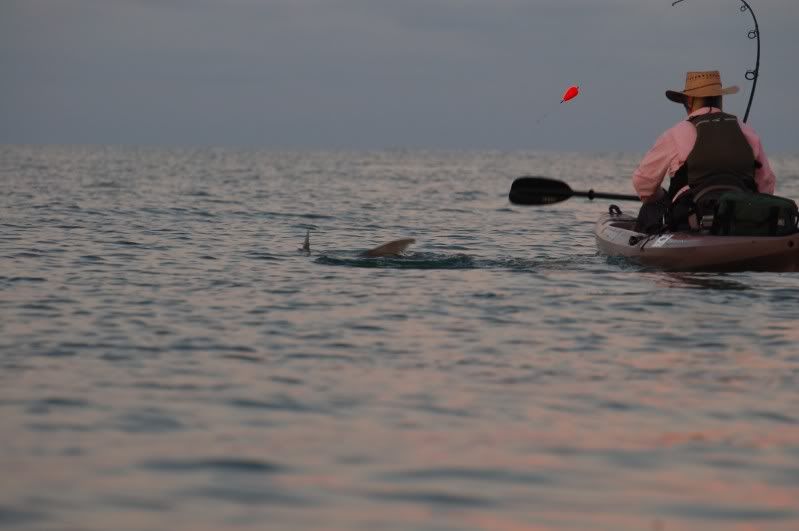 Look for more installments of this in the weeks to come.  Again, thanks to those that have taken time out of their schedules to take part in this article.
About the Author:
Bill has lived and fished the South shore of Tampa Bay since 1972. An aspiring photographer and writer, he has had several of his pictures published in several local fishing publications and was selected to write for an Australian Kayak Fishing Journal called "Blade". He is on the Pro Staff for the kayak fishing websites, Yakangler and Paddle-Fishing.com, sharing his travels around the state as well as product reviews. In 2008 he completed a 129 mile, 17 day trip around Tampa Bay. The event called "Paddle Around the Bay" raised nearly $4000 dollars for the American Heart Association. He also volunteered his time and served on the Hillsborough County Sea Grass Task Force. Charged with developing plans to protect the fragile sea grass in Tampa Bay, the committee made recommendations directly to the county commissioners that when put into place will greatly improve the health of the sea grass in the bay.
As a member of the Malibu Kayaks Pro Team, Bill is active in the local and state tournament scene. He has won numerous Catch, Photo and Release tournaments as well as several online tournaments. He has also helped organize demonstration days and seminars covering such topics as safety as well as fishing the flats.
Along with Todd and Rik Llewellyn, he has helped form a local chapter of Hero's on the Water. This group is tasked with taking injured and recovering veterans out fishing in kayaks. Paddle. Fish. Heal is their motto.
Bill is married to his high school sweet heart, Vicki. They have two children and one grandchild.