Dave "Bigfish171" Horn's 2010-2011 Highlights
3rd Place redfish – The Mystery Lure
2nd Place Slam – My lures are Better than Your Lures
3rd Place – PFTS Angler of the Year with 208 points
How long have you been kayak fishing, what type of kayak do you fish out of?
I bought my first kayak around 13 or 14 years ago. I felt then like I was the only guy out there fishing out of a kayak. I switched to a Tarpon 140 in 2005 when I became more focused on kayak fishing, and now do most of my fishing from a Tarpon 160i.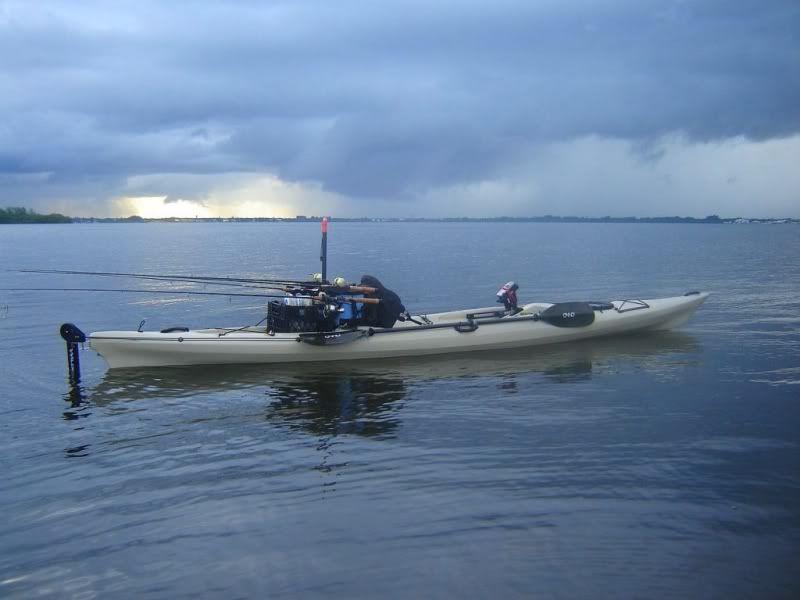 What type of equipment do you normally use? Rod, Reel, Line, Leader.
I carry 2 baitcasters and 2 spinning rods. The spinning rigs are used for soft plastic baits, normally one Exude & one DOA shadtail.  One conventional setup is always rigged with a Spook Jr., while the other is used for just about everything else.
What was your biggest fish caught during the PFTS?  What did you catch it on and how did you use that lure?
My biggest fish of this year's PFTS was a 27" redfish caught at the last event. I caught two of about the same size that day on a Baby Bass Exude rigged on a 1/8 oz., 4/0 Mustad PowerLock. The lure was cranked slowly along the bottom.
What type of area do you look for when targeting that species?
When targeting redfish, I look for a grassy area, preferably with some patchy sand holes. Turtle grass is a plus.
What lures did you use for the Dynamic Duo?
I used two Exudes, one was Baby Bass and the other Golden Bream. The Cockroach Bay puffers left my lures in less than pristine condition. If the Duo is on the South Shore again I'll probably replace one with some sort of hard bait.
What lure did you use for the My Lure is Better than Your Lure?
Baby Bass Exude on a Mustad Powerlock.
How did you rig the Gold Dart?
Since I fished Double Branch, I rigged the dart with a 1/8 oz. Mission Fishin jighead. Had that tournament been in an area with more grass, I might have used a Powerlock.
What lure / lures did you use for The Tackle Box?
Same lures I go out with pretty much every trip. Spook Jr., a Exude rigged weedless, DOA shad tail on a 1/8 oz. jig head, and a gold Johnson spoon.
When targeting the Big Three, Snook, Redfish and Trout, what type of area do you look for during the following seasons:
Winter:
When not fishing a tournament, I often fish the Manatee & Braden rivers for snook & redfish in the colder months. I also target reds in potholes on the flats on winter low tides.
Spring:
When the water temp is less than 72, I'll stay toward the back of the bays & river & creek mouths. Above 72 and its back to the grass flats & mangrove islands.
Summer:
I'm always on the water early, but in the summer, I'm usually off the water pretty early too.
Fall:
I'll usually be on the grass flats before sunup, looking for the redfish that are gathering up in anticipation of their spawn.
If you could give one tip for using artificial lures, what would it be?
Pick a couple of lures you like, and then stick with them till you gain confidence. Those lures will probably wind up being your go-to choices.