Chris showed up at my house a 4:30 am, we loaded up and headed to the East coast in search of monster reds. I had only slept a couple of hours, part of me was wishing I had stayed in bed and slept longer and part of me was excited, hoping that today would be the day I finally get to do the dance with an east coast monster.
When we arrived at the boat ramp I was happy to see that the winds were down. We started making our way to the area we had previously fished and spooked a couple reds on the way. When we arrived to our location there was no sight of any activity. A decision had to be made, we decided to relocate and move further south. In the distance we started spotting mullet activity, as we approached two schools of "west coast" sized reds swam right past us ignoring everything we had to offer. We continued moving further south until we reached the schools of mullet. We started working the schools with no avail got a few on arties but the big girls were not cooperating. We decided to get a couple pieces of cut bait out and not even 5 minutes later we had double hook up.
Since I am one of those crazy people that carries 4 rods on me when I fish, I decided to sacrifice my twitch bait rod and get another piece of cutbait out, Chris had already tied on circle hooks and thrown a couple pieces of cut bait out at the time and was on a double hook up! He landed and released both fish, I was starting to wonder what the heck was keeping the fish away from my line, but a few seconds later all drags start screaming within 5 seconds of each other and we had a quadruple hookup!!! It was absolute mayhem! Little did we know that would be the first of many. It got to a point were we couldn't manage having that many fish on at once so we agreed that after two fish were hooked up we would reel out the other two lines. This worked well from preventing any more quadruple hookups but still resulted in double digit triple and double hookups!
It was one of the craziest days on the water I have ever had, before I had a chance to release one red, another one would hook up!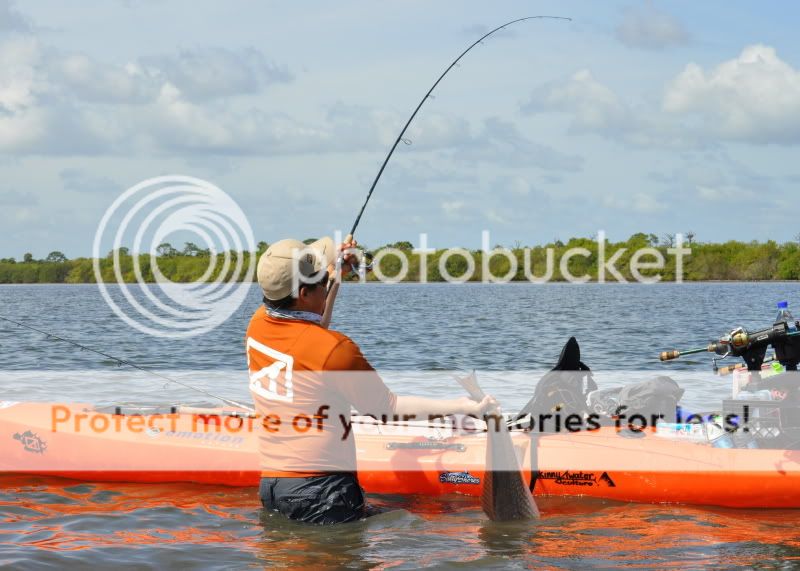 The smallest red I caught was about 31 inches! and I ended up with a double digit redfish day as did Chris. Most of the reds were in the mid to upper thirties. Chris caught his personal best red which measured 38 inches. I caught personal best reds 5 times that afternoon. From a 37 to 38 to 40 to 45.1 to 46.1 incher!!!! This red also ended up being the Kayak Wars All-Time East Coast Record!
My 40 incher
Chris's 38 incher
My 45 incher
My 46 incher (Not bad for 10 lb braid, 20 lb leader, and a 6'8 rod rated for 12 lb test) :smoke:
I also ended up with a 27 inch trout
This picture pretty much sums up how the entire day went :toast: :
It was definitely a day for the books! Good company and a great day of fishing! I loved every second of it, until I noticed that at some point my GPS had fallen out of the boat from me getting in and out from measuring the fish. The lagoon has been costly to me in terms of gear. I have lost a GPS, my wang anchor, and broken a rod in two trips, in all cases it was my fault over something stupid.
-----
Here are some more pictures of the past couple of weeks:
Chris molesting a fish: