I recently sold my Malibu Stealth 12 and picked up a used Native Ultimate 14.5 solo. One of the things I loved most about the Stealth was the amount of storage it came with. I mean it had hatches everywhere, I never had to use a milk crate and everything was easily accessible. Somewhat of a different story with the Native. Those of you that have one know you have to make storage.
Another thing I loved about the Stealth was how stable it was. I could stand on it very easily though getting up and down was a bit difficult. The native is a completely different story. Getting up to stand and sitting back down is a breeze, your feet are below the water line because of the tunnel hull so balancing is as easy as can be.
When comparing the two boats, I think I will have more pleasurable fishing excursions in the Native. It is more manageable getting it on top of the vehicle and it paddles and tracks much better. Weight wise, the Native is about the same as the Stealth, but it isn't front or back heavy like the Stealth.
The Native came with a rudder (SCORE!), seat, paddle, and rod holder. So far I have added an anchor trolley, seat riser and milk crate. I'm sure there are more things to come - possibly skirts fore and aft and probably other accessories.
I stole Rik's idea for the riser and probably will borrow his "goal post" idea too. But after her maiden voyage yesterday morning, I am very happy with my new to me boat. She's got good mojo and was thoroughly slimed yesterday by a couple of reds, a trout, a snook and a mangrove snapper!
Day I bought it: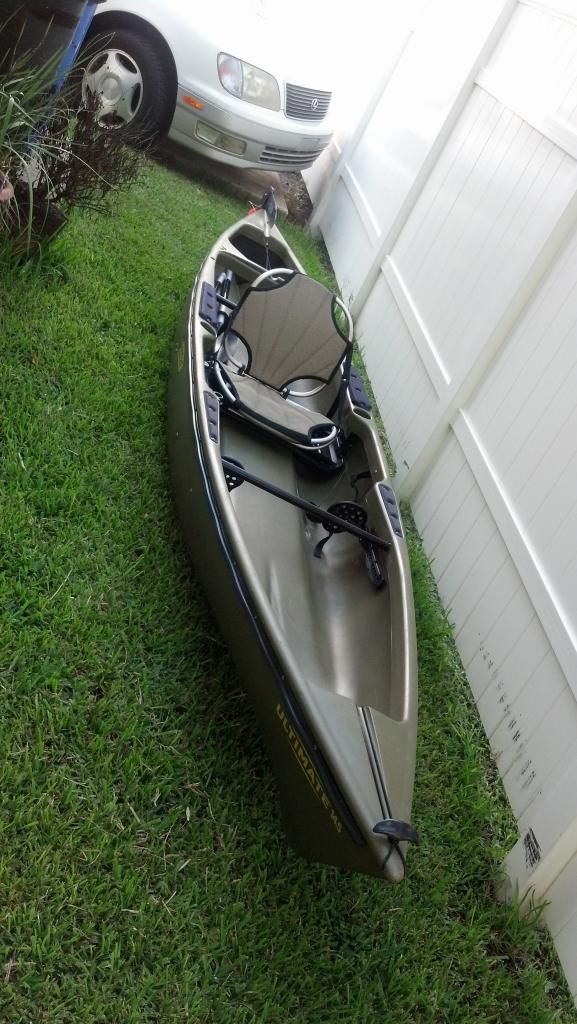 Maiden Voyage:
Her first Snook: